The University of Iowa (UI) is an urban institution that sits within a four-city (Iowa City, Coralville, North Liberty & University Heights) community in east-central Iowa. Its location is easily accessible, slightly over 100 miles east of Des Moines and 25 miles southeast of Cedar Rapids. Due primarily to the University, this area of Iowa has become the most densely populated area in the state. The metropolitan area has a population of over 175,000 persons, not including the approximate 31,000-person student body.
The University's Main Campus houses the majority of academic, research, student life, athletics, and health care programs. It is located primarily within Iowa City proper, the largest and oldest of the four cities. The University's Oakdale Campus is approximately five miles northwest of the main campus. It sits between the Coralville and North Liberty communities, just north of Interstate 80 and east of Interstate 380. The Oakdale Campus is home to research, support programs, and a new health care facility.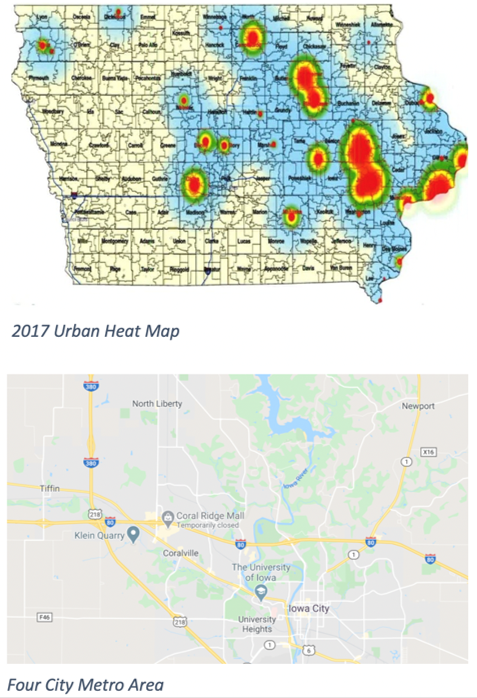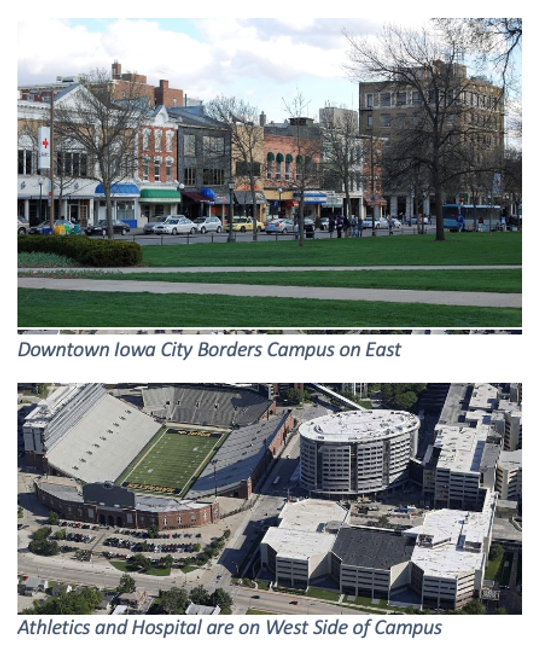 The Iowa River meanders through the University's main campus. The east bank houses a majority of the undergraduate programs and is directly adjacent to historic downtown Iowa City. This ideal setting promotes a thriving town-gown relationship.
Many of the University's graduate and professional programs are located on the west bank of the Iowa River, bridging Iowa City, University Heights, and Coralville. This area is also home to UI Athletics and Healthcare, making it the most densely populated area on campus. UI Healthcare has numerous clinics throughout the community, including a large presence in Coralville's Iowa River Landing. 
Interactive Campus Setting Map